This site uses cookies to enhance your browsing experience and to allow you to order. Continue using this site normally if you are happy with this.

Offers
• Buy 2 Save £0.50
• Buy 3 Save £1.00

Available to order - In Stock
Limited Stock.
99% already sold

15 views today
At least 2 pages per talk
Over 100 Pages + Front and back covers
Full colour front cover with Convention Theme
3 Day Programme in front of notepad


Free UK Delivery on orders over £10

100% Satisfaction Guarantee

Secure Checkout & Payment
100% of customers said they would shop with us again
In a survey from 12/02/13 to 08/03/13
Product code: NPCA17
This is a clearance sale product, therefore we have a limited stock. If we run out of this item/colour, a suitable alternative may be sent.
Ring-bound notepad for the
2017 Regional Convention of Jehovahs Witnesses
114 page notepad with Schedule/Program** in the front, plus each talk has at least 2 dedicated pages with Talk Title pre-printed for taking your brief notes, printed with talk time (with song numbers and times for talks at beginning of a session), plus the scripture which that talk is based on is pre-printed at the top of the page. Full colour cover with Convention Theme. Hard-backed for comfortable writing.
At least 2 pages per talk
Over 100 Pages + Front and back covers
Full colour front cover with Convention Theme
3 Day Programme in front of notepad
Talk Titles pre-printed per page
Scriptures talks are based on pre-printed on each page
Page for each talk (along with title, time and scripture) for taking your brief notes
Hard backed for comfortable writing
3 day district convention notebook 2017
**Times are based on the standard program/schedule, but times may vary (especially on a Friday) depending on the location of your convention (e.g. if located in a busy city centre).
All pictures are for illustration purposes only
Other Options Available:
Order Now
.
Pocket 2018 Premier Theocratic Diary + FREE Cover
Pre-Order - Available to order
Dispatch date approx. 01 Dec 2017
£5.99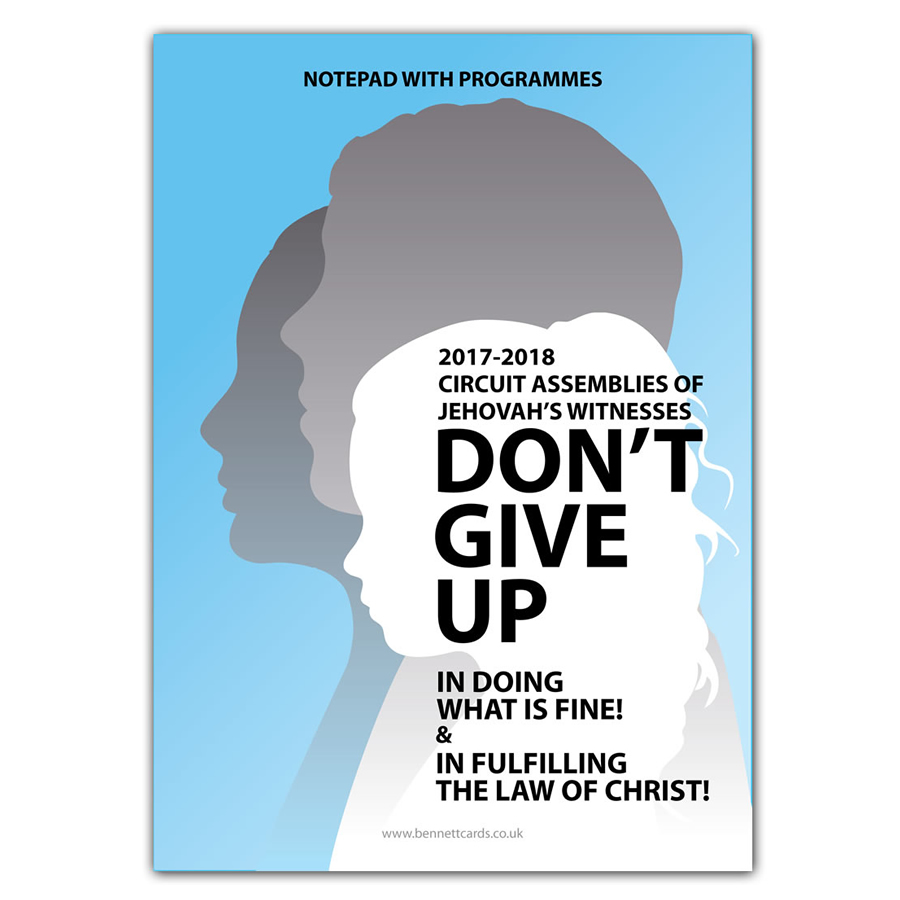 .
2017-2018 Assemblies Notepad A5 - for Adults - with Programmes
Available to order - In Stock

£4.99