This site uses cookies to enhance your browsing experience and to allow you to order. Continue using this site normally if you are happy with this.

Offers
• Buy 3 Save £2.00
• Buy 5 Save £5.00
• Buy 9 Save £12.00

Pre-Order - 0 In Stock
Due in: approx 01 Dec 2017
Daily ministry record
Space for theocratic arrangements (ministry, conventions etc)
Bible Reading Schedule displayed per week
Circuit visit planner - AND MUCH MORE!


Free UK Delivery on orders over £10

100% Satisfaction Guarantee

Secure Checkout & Payment
100% of customers said they would shop with us again
In a survey from 12/02/13 to 08/03/13
Product code: DY0018
This theocratic diary is designed around our theocratic lifestyle, and is especially useful for your ministry or pioneer service.
2018 Premier Theocratic Pocket Diary + FREE clear vinyl cover. The diary is very popular and supplied with all the regular features in the handy size of 95 x 150mm.

The diaries will be supplied with a thick, glossy front cover.

The diaries are also available at a lower price when they are bought in multiples, to make things cheaper and easier for you.
Orders placed in mid / late December for diaries may only arrive January
Size: 95 x 150mm



Daily ministry record
Space for theocratic arrangements (ministry, conventions etc)
Bible Reading Schedule displayed per week
Circuit visit planner - AND MUCH MORE!


Benefits:
Ample writing space per day & per week
Full colour
Keep a record of your ministry
Note down important appointments
Quality PUR binding - extra strong page binding for added durability

2018 Theocratic Diary Features: (Just a few of the many)
Full Colour Cover & Inside Pages
12 Month Diary (Jan-Dec)
Daily Ministry Record
Read the Bible in a year schedule
Circuit visit planner
Plan Your Ministry Hours / Reg. / Aux.
Route Calls
More than 25 features.


Just a few of the many features:
Full Colour Cover
12 Month Diary (Jan-Dec)
Ministry Record
Notes
Personal Names & Addresses
Plan Your Hours / Reg. / Aux.
And Many More Features


All pictures are for illustration purposes only



Other Options Available:

Order Now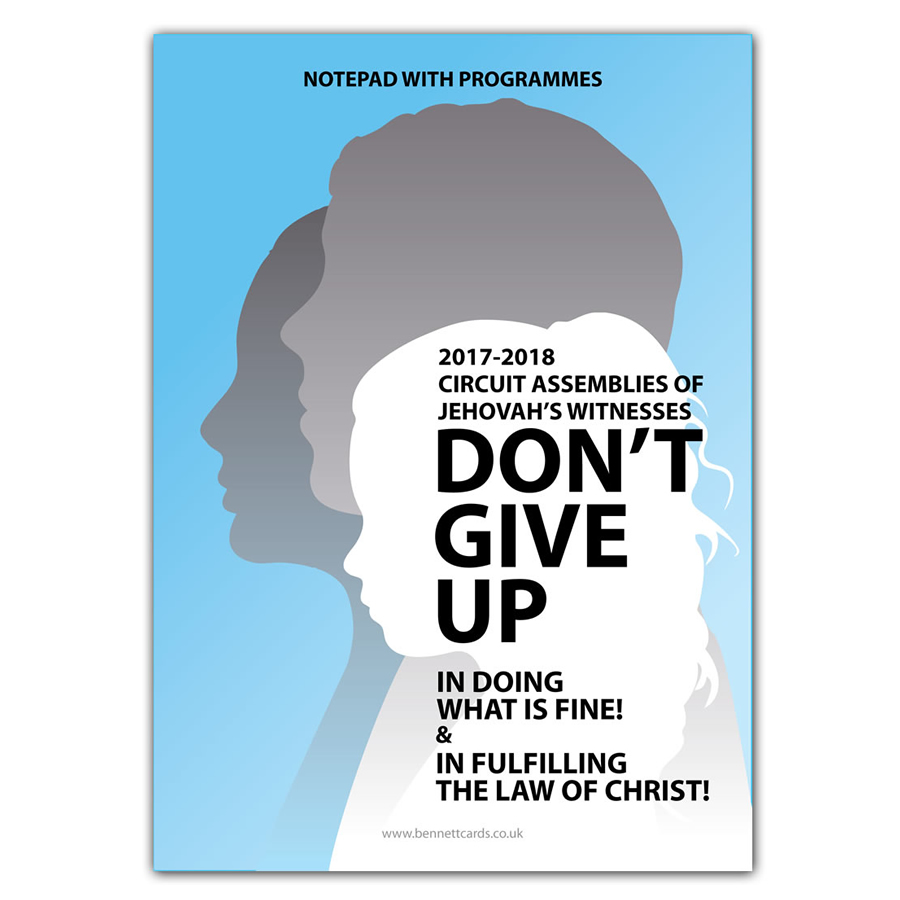 .
2017-2018 Assemblies Notepad A5 - for Adults - with Programmes
Available to order - In Stock

£4.99